Proven Leader
Early Life
I was born and raised in the San Francisco Bay Area, one of nine children of Bill and Claire O'Malley.
In 1968, my sister, Maura, was killed by a drunk driver just 3 days before going to college. I saw my parents grieve with dignity over her death without giving up on life.
"I learned that in spite of challenges and setbacks, they never lost their wonderful spirit to serve others and lead a life of integrity and honesty. I grew up knowing I wanted a life of public service, and have carried those traits with me throughout my life and into my public career as District Attorney."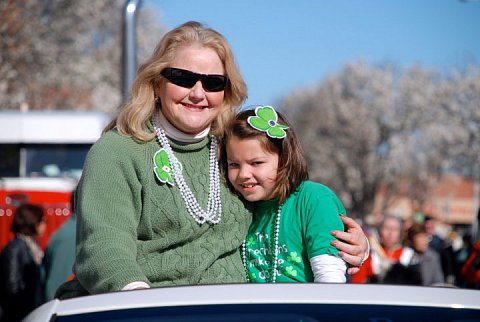 Cancer Survivor
In 1978, I was diagnosed with cancer and spent a year receiving chemotherapy.
Eventually, I overcame my battle with cancer and was asked by my doctors to speak to other chemotherapy patients about the personal challenges cancer has on one's life.
"My life philosophy has been shaped by my upbringing and my personal battle with cancer. I never give up, am steadfast and work hard through the tough times. Early on, I learned from my parents that personal tragedy does not mean having to lose perspective on life. My experience with cancer reinforced my passion towards service to others, strengthened the foundation of my character and has contributed to the person I have become.
"I personally understand the challenges of dealing with life during times of great difficulty, and my experience has provided me with the ability to better serve victims of crimes and enhance my work as District Attorney."
Commitment to Victims
While in college, I volunteered at a rape crisis center and domestic violence shelters.
"This had a profound impact on me, discovering for myself how the victims of these crimes were treated by the justice and social services systems."

Working with Youth
In 1994, I wrote a grant to create a statewide pilot project to protect teens from sexual exploitation and abuse. A year later, that program became a model for California and within two years, every DA office in the state received funding to implement the program.
In 1995, I created FutureChoice, an innovative YMCA youth development program in Oakland. FutureChoice taught at-risk youth about conflict resolution through academic enrichment & mentoring. The program achieved success within the community because of a grant proposal I wrote, and it continues to be funded to this day.
"I strongly believe in setting an example for the next generation, creating innovative programs to help kids thrive, and I remain committed to keeping our children safe. Working with youth has been especially important to me throughout my life and I will continue with these and other programs in my position as District Attorney."
I have established the DA's Justice Academy, a comprehensive six-month learning and working experience for high school students. The students participate in a paid internship with a local government agency, non-profit organization, office of an elected official, or private law office over the summer. At the conclusion of the program, the students present a persuasive oral argument on a topic they encountered in the seminar series. This Academy teaches teens about the many facets of the justice system while encouraging critical thought and civic engagement.
Legislation & Policy
In my early years as a prosecutor, I realized that legislation lacked protection or victims of crimes and access for people with disabilities.
I proposed changes through the California District Attorney's Association and am proud that numerous bills I have either written or worked on have now become law.
"The majority of my legislative work has focused on enhancing the rights and protections of victims of crime."
Some examples of legislation I've worked on are:
Senate Bill 350 - gave CA millions of dollars from the Office on Violence Against Women for programs.
Assembly Bill 499 - created a diversion program for sexually exploited minors.
I wrote a policy memo for CA on sexual assault exams that allows CA to receive $19 million per year for agencies & organizations.
Alameda County Family Justice Center
I am very proud to have been a part of the creation of the Alameda County Family Justice Center (ACFJC), which was the 1st center of its kind across the Nation.
The ACFJC was created as an all-in-one center to assist victims of domestic violence, elder abuse, child abuse, human trafficking, and sexual assault, as well as their families. We have over 30 on-site and 50 off-site agencies that work with us to provide vital services to these most vulnerable victims.
In addition to the initial grant for the ACFJC, I continue to be involved in various grants that have brought more than $3 million in funding to the center.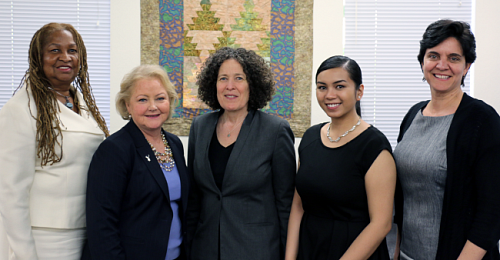 L-R: ACFJC Executive Director Cherri Allison, DA Nancy O'Malley, DOJ-OVW Principal Deputy Director Bea Hanson, DOJ-OVW Confidential Assistant Carla Bernal, DOJ-OVW Deputy for Policy Rosie Hidalgo.
I also serve as a national advisor (without compensation) to other communities throughout California and the nation who are involved in creating other Family Justice Centers.
The ACFJC is a nationally recognized model and was recently chosen by the Department of Justice - Office of Violence Against Women as one of 20 sites of excellence. Our facility was also selected as only 1 of 15 communities that received funding from the President's Family Justice Center Initiative through the U.S. Department of Justice.
History of Leadership
I work hard to inspire my colleagues and those around me to higher levels of teamwork and excellence. My office is staffed by incredibly talented professionals who are committed to seeing justice served for the people of California.
"I am proud to have been chosen to be the District Attorney and will continue the leadership that helped establish the Alameda County District Attorney's Office as one of the best DA's offices in the country."

DA Nancy O'Malley with former DA Tom Orloff
I have had the honor to stand with my colleagues for 25 years, to ensure that the work of the Alameda County DA's Office justifies its reputation.
"I am prepared for the challenges & am honored to be the first woman to hold the position of DA in Alameda County's history. I will uphold the fine tradition that the office has established throughout the years."